活動訊息
標題:
STARBOARD X 校園路演 2017
日期:
2017-11-07
分類:
活動訊息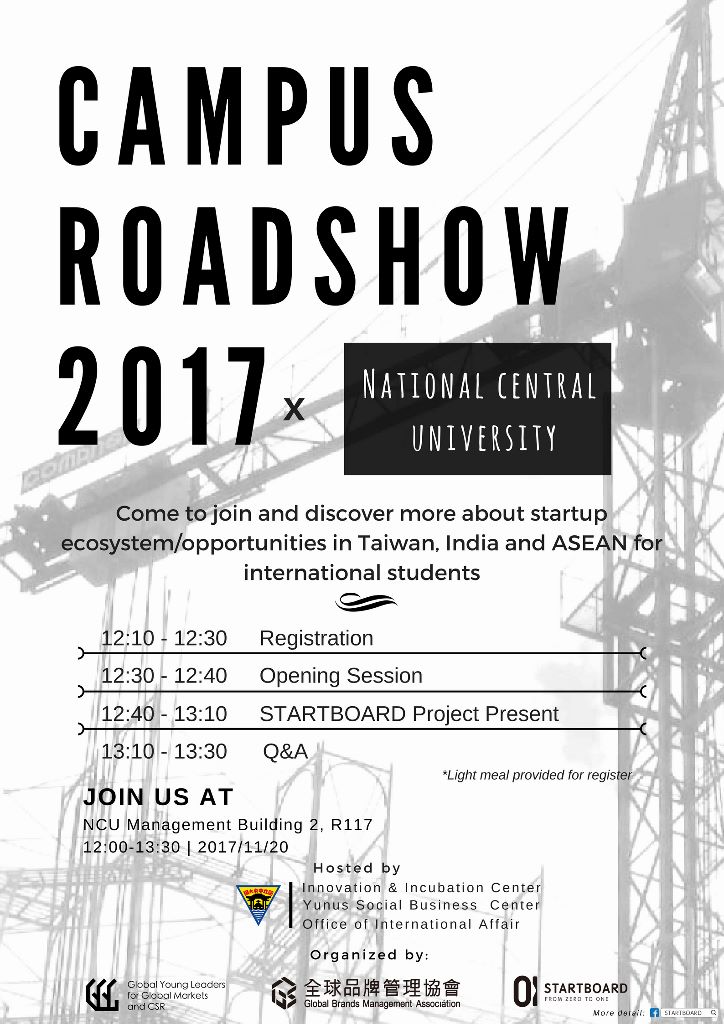 STARTBOARD's first Campus Roadshow will come to National Central University this November!

If you are an international student with a business plan but do not know where to begin then come to us. STARTBOARD is all about helping startups and entrepreneurs. STARTBOARD focuses on helping students from ASEAN countries and India to start their own business here in Taiwan. In STARTBOARD we provide the one stop solutions for startups.

The Campus Roadshow is organized in different universities across Taiwan and we come to on November 20th 2017 at Room 117 NCU Management Building 2. The event is NCU co-hosted by NCU OIA/ NCU Incubation Center and Yunus Center – will be from 12:10 to 13:30 with lots of interesting sharing about startup eco-system from STARTBOARD's family.

Meals are provided for those who register & join the event. Registration link https://startboard.typeform.com/to/LdhHJs
We welcome you all to join with us !!!
Follow our fanpage at www.facebook.com/STARTBOARD.co or our website www.startboard.co for more details.